This page can help you with getting your scanners setup on the Virtual Office system. Their are two options within this drop down.
Android Scanner Setup
This window will provide information needed for your initial scanner setup. This includes information about the Android application, a QR code for scanner setup and our contact information. This window will look somewhat similar to the example image listed above.
Manage Scanner Carts
The manage scanner carts grid will display all of the carts created in the system by a scanner. These entries can be sorted by clicking the column titles, using the search function or filtering the results by using any or all of the drop down items located above the action buttons. For more information on Grid Sorting click here. Refer to example image below. Click the enlarge.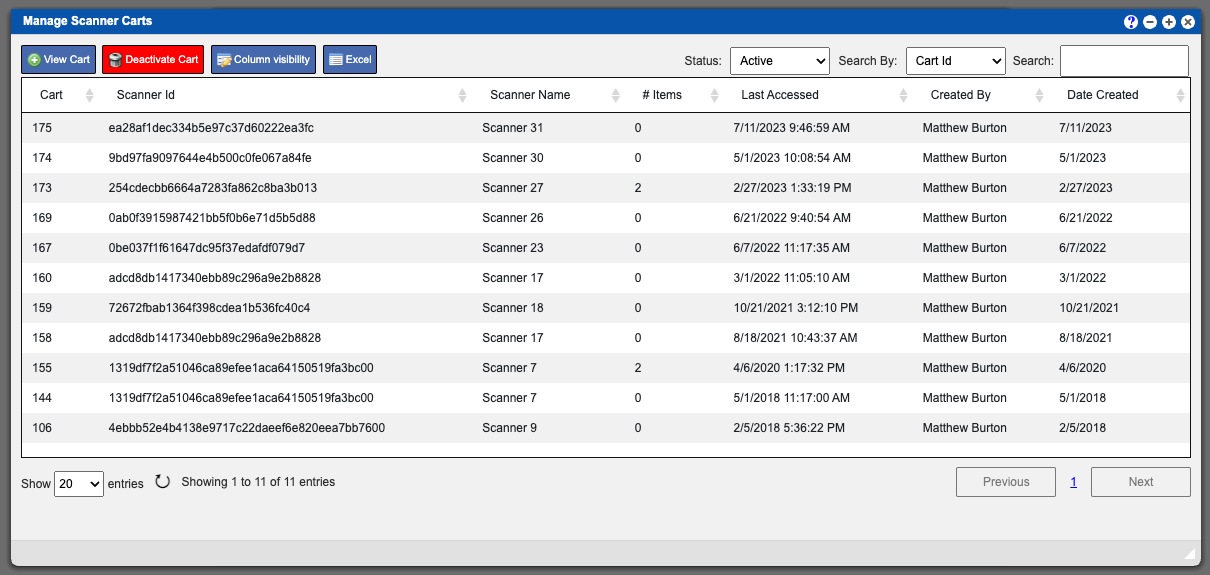 Grid Action Buttons
View Cart – Select this action after selecting a row to view the cart. Example image below.
Deactivate Cart – Select this action after selecting a row to deactivate a cart.
Column Visibility – By selecting this option you can change the visible columns per the grid you are on. These selections are saved per user/browser per grid.
Excel – Selecting this action will export the currently displayed grid data to excel.
When viewing a cart you can sort, search, export or more importantly REMOVE items from a scanners cart. See example image below.