Equitable Software created Virtual Office as an all-in-one, cloud-based enterprise resource planning software to assist formula-based manufacturers in delivering products to their clients as quickly and cost-efficient as possible. Our unique manufacturing software was built from the ground up to assist nutraceutical and pharmaceutical manufacturers throughout their manufacturing process from initial quotes all the way to product fulfillment. Our pre-configured manufacturing industry software has incorporated industry standard best practices while remaining customizable to meet your business' unique needs.
If you are a process manufacturer, Virtual Office by Equitable Software can incorporate your exclusive standard operating procedures with included support for inventory management, quote generation, purchase orders and order management. Your entire manufacturing and inventory processes are managed through a centralized, web-based database that is accessible at all times from anyone within the organization and the proper credentials and permissions.
About Virtual Office by Equitable Software
Virtual office provides real-time inventory management to ensure you have the ingredients needed on hand to successfully complete any formula requested by your clients. This gives you a live look at what ingredients aren't in stock that are necessary for the completion of an order. This includes everything required for the finished product, including the packaging the formula will be placed in. These formulas can then be saved for re-orders that your clients may need in the future to simplify the process and save time.
With Virtual Office, process manufacturers are able to document each step required for the completion of their production processes. This ensures that you can remain compliant with strict FDA mandates as well as all current good manufacturing processes. With a robust permissions system, you can limit each employee to a single account or process and receive updates of any changes they may perform throughout the process to increase accountability.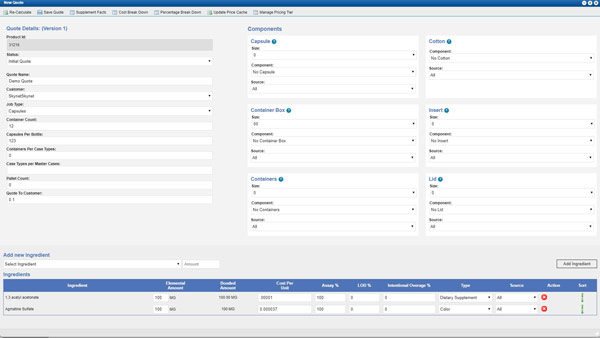 Real-Time Inventory Management
Robust Permissions System
Economical Pricing Structure
Cost Management
Integrated Help Desk
Quote Generation
Cloud-Based ERP System
Optional Scanner Support
Quality Control
Batch Production
Purchase Order Generation
Order Management
Enhanced User Accountability
Order Due Date Scheduling

Master Manufacturing Record Generation
If you are interested in learning more about Virtual Office or want to see how this powerful ERP software can benefit your manufacturing process, we invite you to submit a contact request and try it for yourself. We are confident that our industry-specific software contains everything needed to help you manufacture your customer's products faster while keeping manufacturing costs to a minimum. Ready to get started? Contact us today or request a demo to get started!