Lower Cost

Faster Production

Easy batch tracing

Move Inventory Quickly

Greatly Improves Efficiency
We are happy to announce that our Virtual Office ERP software is now compatible with Android based scanners. This is a BIG step up in many ways from our Motorola MC3190 running Windows CE. The Android scanner that we chose is a Zebra TC21 running Android 10.
Now that our software is readily availability on the Google Play Store the app can be installed on any Android device with scanning capabilities. The Virtual Office Software will still currently function with the older Motorola scanners but we cannot support or service the scanners as their end of life has now passed. Hardware is almost impossible to find and the software running these older scanners will also start to lose support.
Lets go over some of the advantageous reasons as to why you should upgrade your scanner.
Security
There are many inherent qualities from using an Android device as the base for the new scanner and security is the main one. Using this device allows for more up-t0-date security protocols to be utilized. Accessing and using the software on an SSL network and having the ability to lock down the device are two of the most accepted features.
Connectivity
Whether it's due to a lack of network infrastructure or a giant warehouse, users of the older Motorola models have long been plagued with connection issues.  The Android based scanners have better Wi-Fi antennas and can also work from 5G/3G and SSL networks.
Scanning
The scanning range is slighter larger when compared to the older model. An illumination light will automatically activate when scanning which allows for more accurate scanning even in a dark or dimly lit warehouse. The new scanners are more versatile in the fact they can now read any barcode or QR code.

Expandability
The Android scanner will more acceptable for application updates or extentions with Virtual Office available via the Google Play Store. As mentioned before, this will also allow your company to use their existing on-hand Android based scanners if that scenario comes into play.
Construction
This topic might seem frivolous to talk about but if you have been using the Motorola scanner then this point is important! As you could expect the Android based scanner is much more rugged and durable in design.  I'm not saying that the Androids are indestructible but the smaller design and more durable materials will allow for a longer life cycle.
Ease of Use
This is quite possibly the most obvious and noticeable. We are inherently accustomed to using a device very much like this in our everyday life; which means most people are more comfortable operating and navigating the Android scanner. Overall operation of the software on the scanner is also more intuitive.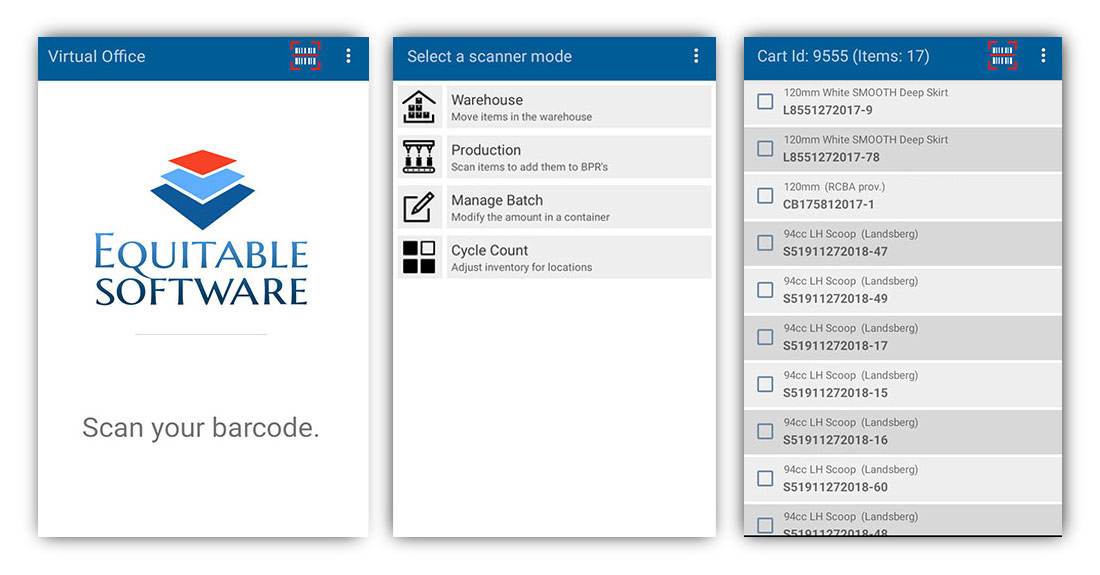 Do You Need Future Proof ERP Software?
If you are interested in learning more about Virtual Office or want to see how this powerful ERP software can benefit your supplement manufacturing process, we invite you to request a demo and try it for yourself. We are confident that our industry-specific supplement manufacturing software contains everything needed to help you manufacture your customer's products faster while keeping manufacturing costs to a minimum.
Do You Fulfillment Software?
Are you needing to manage your warehouse or complete fulfillment? Our fulfillment software integrates into our ERP or it can be used as a stand-alone piece of software for any third party shipping company (3PL). Learn more about our Fulfillment Software here.